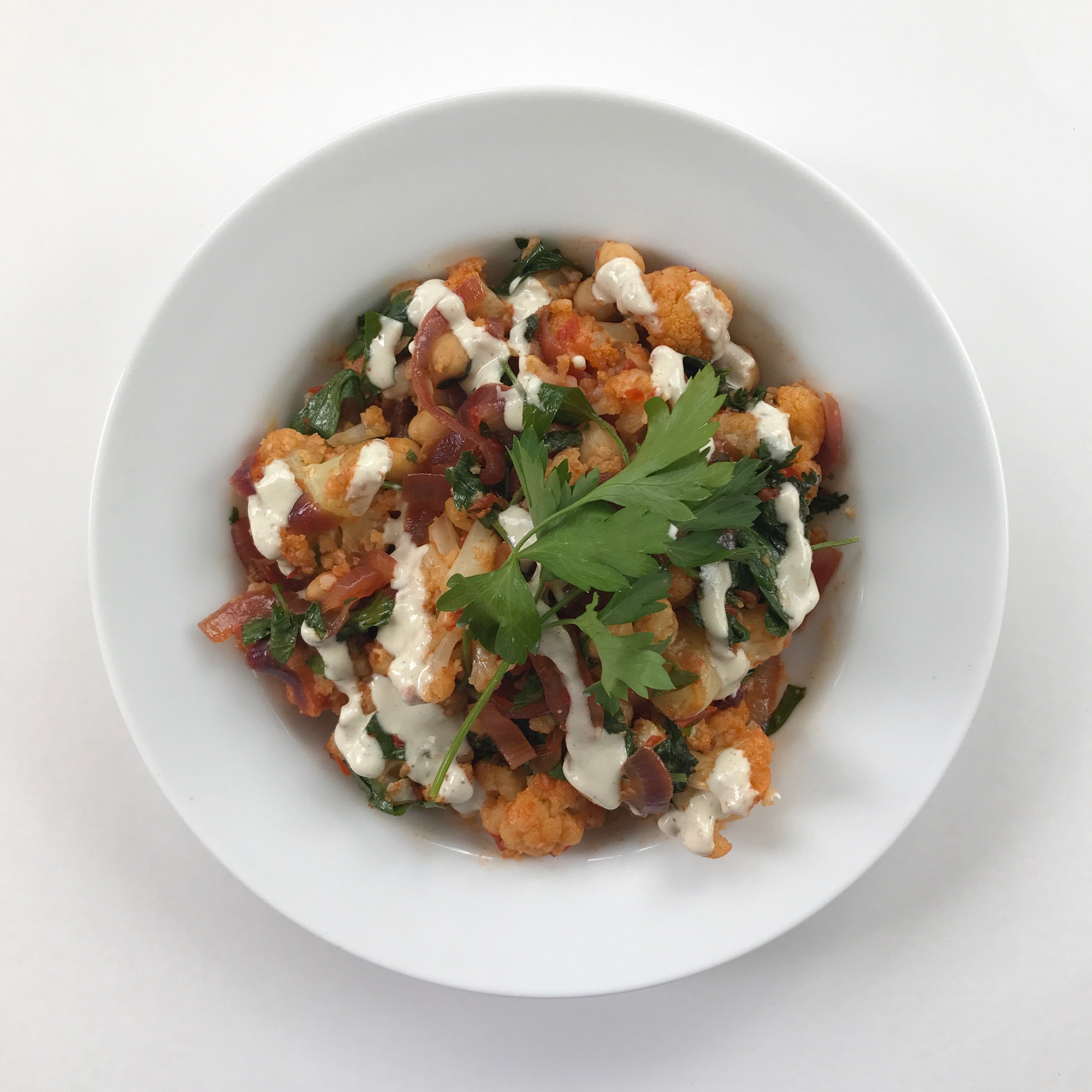 Hi friends!

I am so excited to announce that I am now a guest chef on the Dinner Party Project team! I am a huge fan of dinner parties, community, connection and of course, delicious food. I will be cooking up some healthy eats for one of their dinner parties each month - YAY. If you haven't checked it out yet, you are missing out.

I made this dish as an entree for my official tasting. It is amazing - spicy, sweet, "meaty" and veggie packed. Harissa is a wonder ingredient if you like spicy things and don't have a sensitivity to nightshades (a group of vegetables that causes inflammation in some people). You can throw harissa on almost anything - veggies, quinoa, eggs, etc.

Try this out for yourself at your next dinner party. I served it over a big bed of quinoa with tons of fresh herbs. If it was just for me, I would have served it over some wilted greens, like kale or spinach. Spice it up however you like. :)

Harissa Roasted Cauliflower w/ Red Onion, Chickpeas and a Lemony Tahini Dressing

INGREDIENTS
1 head cauliflower, cut into bite-sized florets
¼ cup extra virgin olive oil
Salt
1 teaspoon whole cumin seeds
1 15-ounce can chickpeas, rinsed and drained (you can save the aquafaba for another recipe, like my chickpea scramble!)
1 small red onion; sliced
2 – 3 tablespoons spicy harissa
½ bunch each Italian parsley and cilantro, washed with leaves picked and chopped
1 lemon

Lemon Tahini Dressing

INGREDIENTS
1/2 cup tahini
juice of 1 lemon
1 tablespoon maple syrup
a few dashes of garlic powder
Himalayan salt to taste
Black pepper to taste
water to desired consistency (1/2 cup to 3/4 cup)

INSTRUCTIONS
1. Heat the oven to 400 degrees.
2. Spread the cauliflower out on a large rimmed baking sheet. Add 3 tablespoons of oil, ½ teaspoon salt and the cumin seeds. Roast until the cauliflower is tender and golden, about 20 minutes. Add the chickpeas and roast an additional 10-20 minutes, depending on how crispy you like them.
2. Make the dressing: Whisk all ingredients together in a bowl. Add water to desired consistency. Make this dressing your own, with a bit more maple syrup, lemon juice, salt or pepper here and there. The basics are sound, so you can't mess it up!
3. While the cauliflower is roasting, heat the remaining tablespoon of oil in a pan. Add the onion and a pinch of salt. Cover the pan and cook over medium-low heat until the onions are soft. Then, stir in the harissa along with 1 tablespoon water.
4. Squeeze the lemon over the chickpeas, top with the fresh herbs and combine with the harissa onions.
5. Serve with a generous drizzle of the lemon tahini dressing. Enjoy!